The project in numbers
2
---
Special charter flights and various individual flights
German Cup final 2018
An electric atmosphere and nail-biting football were guaranteed at the German Cup final in Berlin's Olympiastadion on 05/19/2018, when Eintracht Frankfurt beat record winners and champions FC Bayern Munich by 3 goals to 1. Liga Travel played a crucial role in allowing Eintracht Frankfurt to concentrate on the task in hand, as the sports travel and event specialist took on the responsibility of delivering flawless travel and event management.
As Germany's biggest sporting event of the year, the German Cup final is hugely significant in terms of publicity and sponsorship, and Liga Travel proved that their organizational skills could rise to the occasion. Liga Travel made sure of the best possible accommodation, reliable travel to and from the match, as well as transfers throughout the weekend, for the Eintracht Frankfurt players and staff, plus delegation members, sponsors, guests and fans.
The actual final on the Saturday was bookended by two other highlights. On the eve of the match, the club invited 1200 guests to a celebration in the "Frankfurter Botschaft" restaurant and the crowning glory of the weekend was the final banquet, when the players showed off the German Cup to 450 overjoyed guests, using the slogan "The Return of the Cup".
Travel- and Event management
One point of contact for effective travel and event management
The competition's knock-out system means the German Cup final is a challenge for organizers and finalists. Plenty of experience, a wide network of service providers and detailed, long-term preparation covering a range of potential scenarios are crucial in this situation, as the teams going to the final in Berlin are only decided four weeks beforehand.
Travel management
620 room reservations over 4 hotels: research, contract negotiations, contingency management, organization and support on the ground
2 chartered trains for sponsors and fans: research, contract negotiations, organization, support
2 charter flights: organization and coordination with airlines and airports, separate check-in, airport transfers, contingency management and seating
Scheduled flights: research, obtaining quotes, booking
Transfers throughout the weekend: organization and support for all the transport on the ground
Invitation and attendee management for all the guests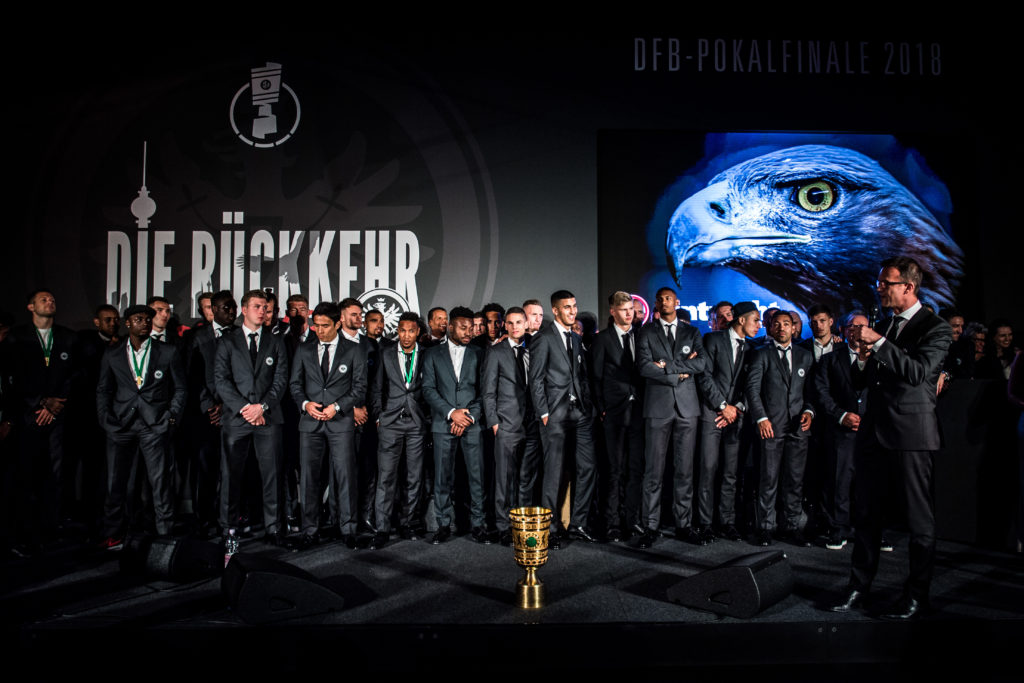 Event management
Event consulting
Final banquet: venue sourcing, coordinating trades, location branding, performer selection and management, organization, program management, design, logistics
Frankfurter Botschaft: venue sourcing, performer selection, organization, support, program contribution, logistics
Online attendee management; onsite accreditation
Liga Travel is a competent partner by our side on which we can count anytime. The support in dealing with the numerous challenges around our travel and event management has contributed to enormous success on and off the pitch with regards to the German Cup Final 2018.